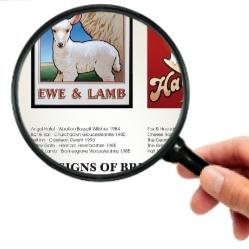 INN SIGNS OF BRITAIN POSTER - £5.95 with free shipping
A superbly colourful poster of 25 genuine hand painted British inn signs with locational information and year of painting production. A2 poster size - 420x594mm (16⅝x23⅜ inches). The poster is available as a single poster, or in discounted packets of 5 posters and 10 posters.
Sales of this poster are used to pay for the hosting and maintenance of this reference website, please help to keep it online and buy one or more.
All prices shown include shipping costs. UK post usually takes 3 working days
International Airmail takes approx 7 working days - Single Poster+shipping £7.95 (US $11.00 approx)
We use the secure Paypal system for credit/debit card payments. All major credit cards accepted.
You do not need a Paypal account to purchase a poster.

Email multiple posters for large discounts on multiple purchases
Use the Contact link for additional general and purchase information enquiries, All artwork is copyright protected